Business Information Technology MSBIT
Major: Business Information Technology
Degree Awarded: Master of Science in Business Information Technology (MSBIT)
Calendar Type: Quarter
Minimum Required Credits: 45.0
Classification of Instructional Programs (CIP) code: 52.0305
Standard Occupational Classification (SOC) code: 11-3031
About the Program
The Master of Science in Business Information Technology (MSBIT) prepares students for work related to applying information technology in organizations. Jointly offered by the College of Computing & Informatics and the LeBow College of Business, the program is thoroughly interdisciplinary. It connects business and information technology perspectives so that students understand information technology in an organizational context. Specifically, students completing the program will understand how information technology is managed in an organizational environment, how it helps to solve organizational problems, and how it can be used to transform an organization.
The program is designed for students who have relevant work experience and either a technical or a business background. Courses provide technology and business knowledge with a practical emphasis. To complement required foundations in information technology and management, students can choose to focus on two of the following areas: organizational security, information technology and execution, information systems development, or digital transformation.
Pathways to Completion
As the graphic below indicates, students have different pathways to earning the MSBIT.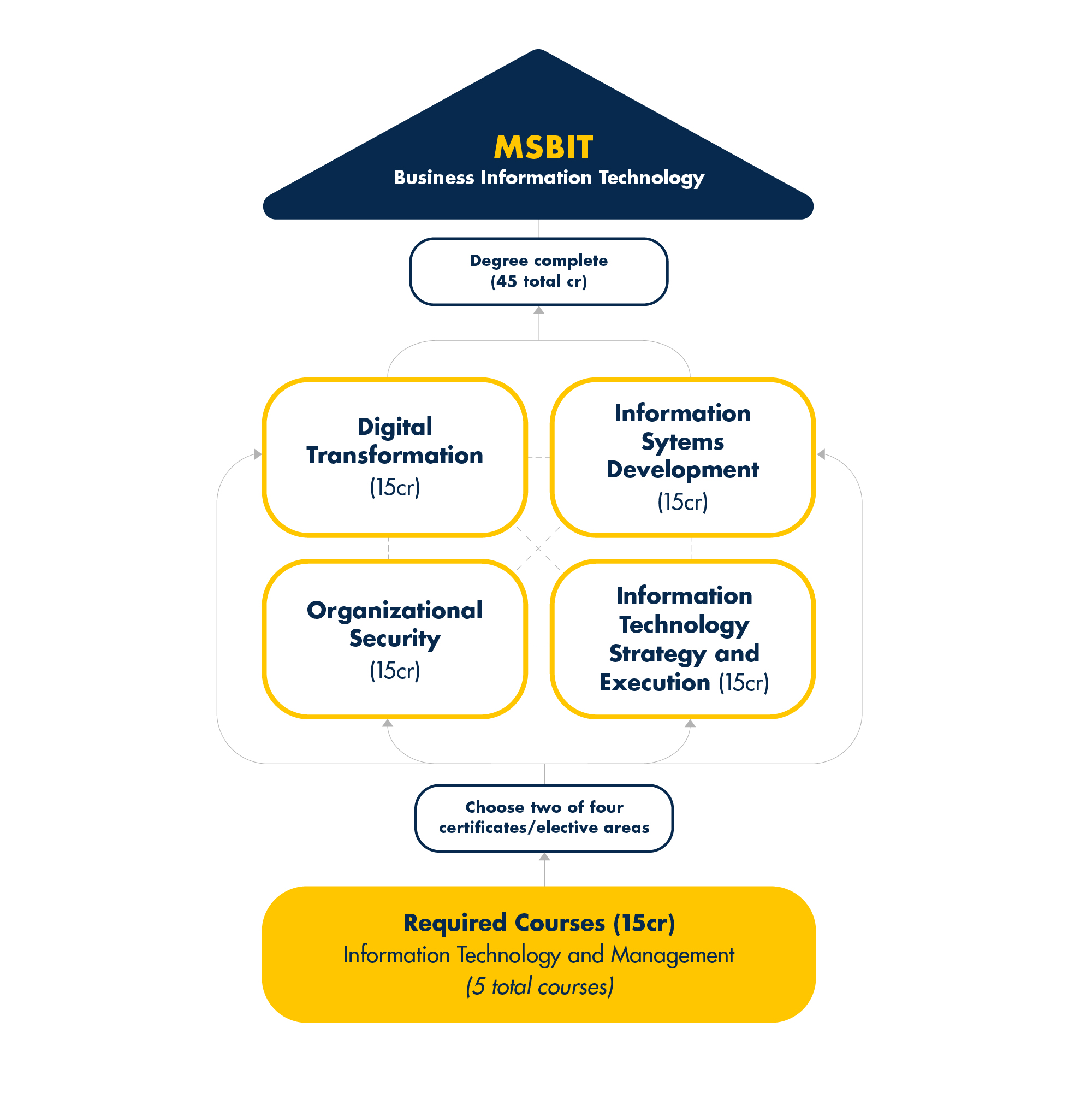 Degree Requirements
Required Courses - Information Technology & Management

CT 500
Introduction to the Digital Environment
3.0
CT 600
Cloud Technology
3.0
CT 610
Disaster Recovery, Continuity Planning and Digital Risk Assessment
3.0
MIS 615
Aligning Information Technologies and Operations
3.0
MIS 625
Management of Information Technology Operations
3.0

Choose 2 of the following elective areas

30.0

Organizational Security

Cloud Security and Virtual Environments
Security, Policy and Governance
Principles of Cybersecurity
Information Forensics
Information Assurance

Information Technology Strategy & Execution

Aligning Information Systems and Business Strategies
MIS Policy and Strategy
Leading and Executing Change
Software Engineering Economics
Software Project Management

Information Sytems Development

Application Software Construction and Operation
Perspectives on Information Systems
Database Management Systems
Systems Analysis & Design
Business Agility and IT

Digital Transformation

Innovation Management
Technology Strategy
Emerging Information Technologies in Business
Digital Platform Management
Design Thinking for Digital Innovations
Total Credits
45.0
Sample Plan of Study
First Year
Fall
Credits
Winter
Credits
Spring
Credits
Summer
Credits
CT 500
3.0
CT 600
3.0
CT 610
3.0
MIS 615
3.0
Elective Area 1
3.0
Elective Area 2
3.0
Elective Area 1
3.0
Elective Area 2
3.0
 
6
 
6
 
6
 
6
Second Year
Fall
Credits
Winter
Credits
Spring
Credits
 
MIS 625
3.0
Elective Area 1
3.0
Elective Area 1
3.0
 
Elective Area 1
3.0
Elective Area 2
3.0
Elective Area 2
6.0
 
 
6
 
6
 
9
 
Total Credits 45
Business Information Technology Faculty