Education Improvement and Transformation
Major: Education Improvement and Transformation
Degree Awarded: Master of Science (MS)
Calendar Type: Quarter
Minimum Required Credits: 45.0
Co-op Option: None
Classification of Instructional Programs (CIP) code: 13.9999
Standard Occupational Classification (SOC) code: 11-9032
About the Program
This program is intended for adult learners with an interest in advancing their career in the field of education who want to self-design a program that is tailored to what they want and need to know. Appropriate for those students pursuing traditional education pathways—becoming a PK-12 teacher or moving into school administration, for example—it is also a good choice for those wanting to have an impact on our education system and students, whether PK-12 or post-secondary, through different kinds of professional paths. The MS in Education Improvement and Transformation is a customizable degree. Students select from 15 areas of study to pursue some combination of three-course Professional Development Concentrations (PDCs) and Post-Baccalaureate Certificates (PBCs), then 9.0 credits of elective courses available in the School of Education and other schools and colleges in Drexel, and then complete a three-course, research-based capstone project relevant to their own career pursuits. Both the PDCs and the PBCs are comprised of focused coursework in a specific area.
Currently available PDCs include:
Collaborative Special Education Law and Process: Prepare to meet the unique learning needs of students with disabilities through legally mandated school, home, and community collaboration.
Creativity and Innovation: Learn how to think like a creative professional, apply creativity to your chosen career, tap into your innate creativity, and investigate strategies to implement your ideas in an educational setting.
E-learning Leadership: As the demand for academic programs, lifelong, and just-in-time learning designed and delivered via e-learning and mobile learning continues to grow, the corresponding need for leadership in this important area increases.
Educational Policy: Gain insight into the policy-making aspect of education, with an emphasis on American policy and the ethics behind creating educational policies.
Entrepreneurship: Learn tools used by successful entrepreneurs and apply your knowledge through social experiential learning experiences.
Evaluation and Assessment: Even the most successful education institutions need to evaluate their performance. This concentration focuses on the evaluation process and how to effectively assess institutions on multiple levels.
Higher Education: Develop the skills and knowledge necessary to begin or advance your career in higher education administration and leadership. Coursework prepares students for roles in diverse institutions and organizations within the broad field of higher education.
Instructional Design: Prepare to effectively and efficiently design learning environments and experiences in diverse organizational settings using a variety of media.
Leadership in Educational Settings: Gain the knowledge and skills needed to be a leader in an educational setting, and examine how educational leaders operate by exploring topics such as decision-making and policy.
Learning in Game-Based Environments: Prepare to effectively use educational games in and out of the classroom and training center. You'll gain an overview of game development processes, learn to build basic games, and most importantly, examine how to assess and evaluate the learning experience as it relates to educational games.
Learning Analytics: Learn to understand and improve instructional processes, the role of data in organizational change, and leadership in educational systems based on multiple data and information sources. Be prepared to make data-driven decisions about education improvement using a broad range of data collection, analytical, and visualization methods.
Learning Technologies: Learning technologies are changing education through online tools and methods. As a result, designers and instructors who understand how and why people use technology are in high demand. This program encourages you to explore various aspects of learning technologies, including designing and implementing learning experiences.
Mind, Brain & Learning: Study mind, brain, and education science in real-world contexts and apply this knowledge through innovative teaching, assessment, and instructional design in alignment with the human learning process.
Organization and Talent Development: Gain the strategic human resource development capabilities and competencies to lead talent development, coaching and mentoring, and organization development and change initiatives in any organizational setting.
Urban Education: Urban education is one of the most prominent subjects in education today. Learn about the differences and similarities between urban and rural education settings, and how to resolve conflict in urban school settings, among other relevant topics.
After students complete a minimum of 27.0 credits through some combination of PDCs and PBCs, they will finish the program by enrolling in three elective courses (9.0 additional credits) and then a 9.0 credit sequence that includes a research course and completion of a capstone project that allows them to synthesize the previous learning in their program and to produce work that that bears on their career goals and may have transformative impacts on our education system. The combination of the PDCs/PBCs, the electives, and the three capstone courses provides the student with the 45.0 credits required for the MS degree.
Pathways to Completion
As the graphic below indicates, students have two defined pathways to earning the MS in Education Improvement and Transformation: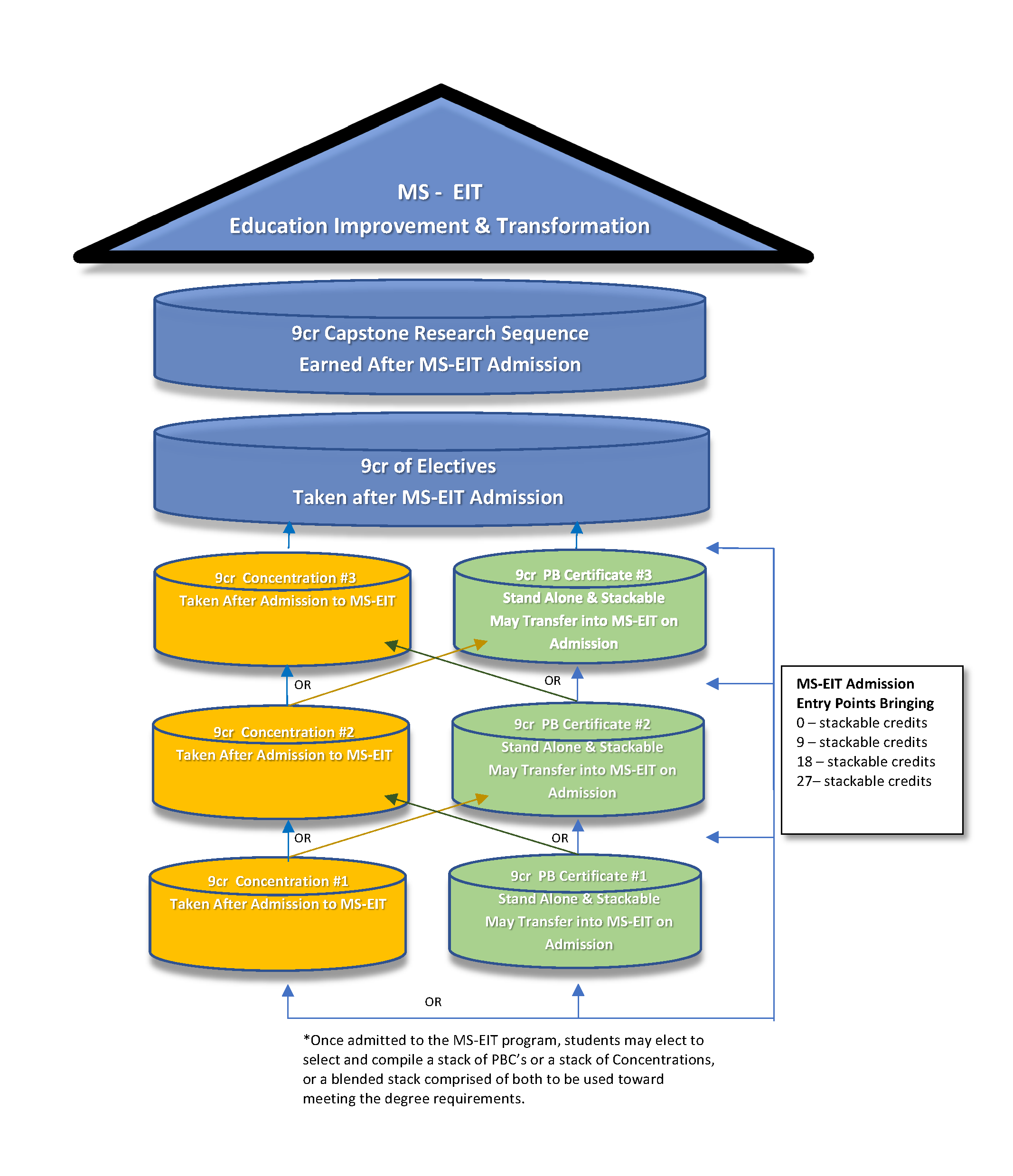 Option A: A student may choose to pursue as many as three of the PBCs listed below, and "stack" the credits earned in conjunction with these (up to 27.0) towards the degree requirements (45.0 credits). To do this, a student will need to apply to enter the MS program no later than the time of completion of their second PBC.
Option B: A student may choose to enroll in the MS program from the outset and pursue the 45.0 credits needed to earn the degree. They can do this by completing up to three PDCs listed above OR by earning up to three PBCs from the list below OR completing a combination of PDCs and PBCs adding up to three.
In the case of either Option A or Option B, after earning 27.0 credits, the student will be required to select elective courses totaling 9.0 credits, and then complete a 9.0 credit research-based capstone project sequence.
Post-Baccalaureate Certificates available:
Additional Information
For more information, visit the Drexel University MS in Education Improvement and Transformation webpage.
Degree Requirements
The core of the Master of Science in Education Improvement and Transformation program is made up of three professional development concentrations in strategic education improvement areas and topics.
These concentrations cover areas such as assessment, strategic partnership, change leadership, educational policy, disabilities, virtual schools, charter schooling, homeschooling, community engagement and development, urban education, school boards, and financing education. Additional concentrations may be developed on a topical needs or special-population-based basis.
Choose three professional development concentrations from the list below:

27.0

Collaborative Special Education Law & Process (PDLP)

Family, School and Community Engagement in Special Education
Special Education Advocacy
Special Education Dispute Resolution and Skills Training

Creativity & Innovation (PDCR)

Tools and Techniques in Creativity
Creativity in the Workplace
Current Trends in Creativity & Innovation

Educational Policy (PDEP)

Education Policy: Concepts, Issues, and Applications
American Educational Policy and U.S. Competitiveness
Ethics in Educational Policy Making

E-Learning Leadership (PDEL)

The Purpose and Business of E-Learning
Learning Technologies & Disabilities
Learning with Social Media and Mobiles

Entrepreneurship (PDET)

Entrepreneurship Practice & Mindset
Social Entrepreneurship
Learning from Failure

Evaluation & Assessment (PDEA)

Evaluation & Assessment Competencies
Institutional Assessment, Accreditation and Effectiveness
Evidence-Based Evaluation
Quantitative Literacy: Interpreting and reporting data for educational policy and research

Select 3 credit School of Education elective with advisor assistance

*

Higher Education Leadership (PDHE)

Foundations of Higher Education and Governance
Legal Issues & Ethics in Higher Education
Institutional Assessment, Accreditation and Effectiveness
Neurodiversity in Education and Workforce

Instructional Design (PDID)

Instructional Design Methods
Instructional Design: Project Management
Instructional Design: Special Topics

Leadership in Educational Settings (PDLD)

Creativity and Change Leadership
School and Community Partnerships and Relations
Leadership in Educational Contexts and Systems
Mentoring and Collaborative Leadership

Learning Analytics (PDLA)

Learning Analytics: Lenses on students, teaching, and curriculum enactment
Information Enabled Change in Educational Organizations
Using Data to Understand Educational Systems

Learning in Game-based Environments (PDLG)

Foundations of Game-Based Learning
Play & Learning in a Participatory Culture
Design-Based Research Methods

Learning Technologies (PDLT)

Using and Integrating Learning Technologies
Technologies for Performance Support
Learning with Social Media and Mobiles

Mind, Brain, and Learning (PDMB)

Mind, Brain and Learning
Neuropedagogy and Assessment
Neurodiversity in Education and Workforce

Organization and Talent Development (PDHR)

Foundations of Human Resources Development
Coaching and Mentoring for Sustainable Learning
Organization Development and Change

Urban Education (PDUE)

Diversity and Today's Teacher
Diversity, Equity, and Social Justice in Education
Leading in Urban, Rural and Suburban Settings
Resource Management, Allocation and Entrepreneurship
Educating for Peace, Social Justice, and Human Rights

Electives

9.0

Students can choose 9 credits of School of Education electives with advisor assistance

(

Capstone Courses

9.0-10.5
Capstone Research

Students have the option to select one of the following capstone tracks:

Practitioner Capstone Course I
Practitioner Capstone Course II
Thesis Capstone Course I
Thesis Capstone Course II
Total Credits
45.0-46.5
*

Electives include graduate courses in ELL, EDGI, EDLT, EDAM, EDLS, EDHE, SCL, CRTV, EHRD, EDPO, EDEX, EDUC, and MTED.
Sample Plan of Study
First Year
Fall
Credits
Winter
Credits
Spring
Credits
Summer
Credits
Concentration Course 1
3.0
Concentration Course 3
3.0
Concentration Course 5
3.0
Concentration Course 7
3.0
Concentration Course 2
3.0
Concentration Course 4
3.0
Concentration Course 6
3.0
Concentration Course 8
3.0
 
6
 
6
 
6
 
6
Second Year
Fall
Credits
Winter
Credits
Spring
Credits
Summer
Credits
Concentration Course 9
3.0
Concentration Course 11
3.0
Concentration Course 12
3.0
EDUP 781 or EDUT 781
3.0-4.5
Concentration Course 10
3.0
EDU 780
3.0
EDUP 780 or EDUT 780
3.0
 
 
6
 
6
 
6
 
3-4.5
Total Credits 45-46.5
Students have the option to select from the Practitioner or Thesis Capstone track during Second Year, Spring and Summer Terms.
Note: Second Year Summer may be less than the 4.5-credit minimum required (considered half-time status) of graduate programs to be considered financial aid eligible. As a result, aid would not be disbursed to students this term.
Education Faculty
Emeritus Faculty